Experience Mercedes-Benz for an Unrivaled Driving Experience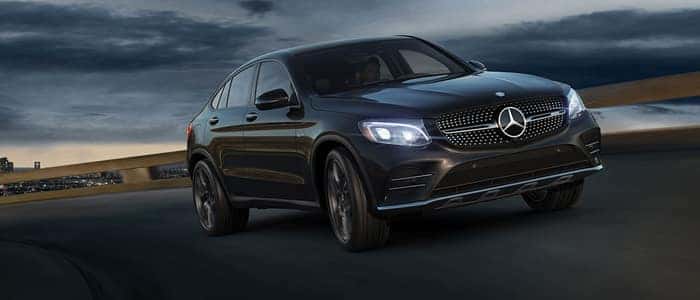 Mercedes-Benz is synonymous with luxury, and for good reason. From smooth handling to interiors that rival others in their class, Mercedes-Benz has thought of it all.
The GLC 300 offers sport utility that crosses over into fun performance; the E-Class sedans provide unparalleled safety without compromising comfort, and the AMG® C 43 offers the very best in performance. These are cars that must be experienced to be truly understood. To learn more, visit Mercedes-Benz of Bedford for a test drive.
Mercedes-Benz GLC 300
The GLC 300 takes something from both the coupe and the SUV to create something unique. This vehicle offers the space and flexibility of an SUV while delivering the speed and performance of a coupe.
Comfort is key around tight corners and on rough roads, and driving modes range from EcoBoost to Sport+, allowing drivers to customize their vehicle to fit their driving, instead of the other way around. Console control, three-zone climate control, and an available heads-up display create the luxury cabin expected from a Mercedes-Benz.
Mercedes-Benz E 300
The E-Class sedan may be the smartest car on the road. Offering Car-to-X technology that is absolutely groundbreaking, the sedan can communicate road conditions to other cars and receive information from other cars on the road.
Vehicles can speed up, slow down, and avoid hazards before they are even reached. Drivers can control nearly everything about their car without taking their hands off the steering wheel. The E 300 engine is shockingly efficient, delivering seamless turbo power from its 9-speed transmission without ever feeling a shift. This car offers unprecedented safety and unbelievable comfort for the driver and for passengers.
Mercedes-Benz AMG® C 43
The C 43 is the newest in the AMG® class of exceptionally engineered Mercedes-Benz vehicles. The C-Class sedans already offered fantastic performance with incredible comfort, but the AMG® engineering takes the vehicle to a whole new level. A 3.0L biturbo engine delivers incredible power while the ECO-START® system maximizes fuel efficiency.
This sedan offers a top-notch package of safety features, including options like braking assistance and crosswind assistance. Its comfort cannot be overstated; heating and cooling front seats, a central controller in the console, and an AMG® heads-up display mean that your comfort will never be compromised.
To learn more about the Mercedes-Benz line of luxury vehicles, please visit Mercedes-Benz of Bedford for a test drive.